SGS provides complete solution to surface weather observing Network both for Synoptic and Climate Stations. The basic surface observing network is the core of the weather forecasting. The efficient and uninterrupted operation of systems is essential for continuous supply of data to the forecasting models. Thus standardization of network in continuum mode is essential. We provide complete customized solutions to all the associated requirements with surface weather observing network. We provide Automatic Weather Stations with different combinations of Sensors, Data loggers, related communication systems and software.

The Surface Weather Systems are broadly classified as
Fixed Automatic Weather Stations
The permanent weather stations are the most common Surface Weather Monitoring stations which are use by meteorologist. These are the replacement to the manned observatories in the world today. These professional weather stations are equipped data loggers, power source, telemetry and sensors. We have an installation and maintenance experience of more than 800 AWS spread through out the country, which include the 550 Weather stations for IMD, a network of weather stations with various irrigation departments and AWS as part of severe weather warning systems. We integrate highly accurate and low power consumption logger with different configuration and channels depending upon the customer needs. Our systems require only a minimal amount of maintenance and can be depended on to perform effectively in all weather conditions and climates. It can also be customized to operate as part of your existing data collection system or AWS network. The main advantage of our design is the low power consumption reducing its requirement to a small solar panel with a small battery bank. From synoptic meteorology and climatological research, to hydrology and urban meteorology our fixed AWS is the ideal solution for a range of applications. Our standard AWS includes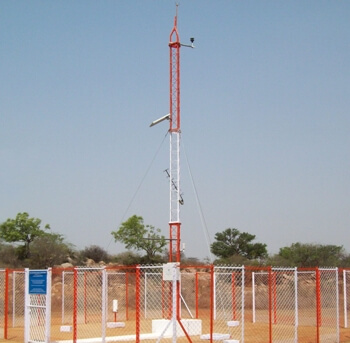 Triangular Galvanized mast with Guy wires or Tilt able pole mast
Electronics enclosure
Mains or solar powering
Local and remote communications
Sensors
Mounting accessories
Optional data display software
We sell the most sophisticated weather stations available in the world today logging nearly 18 parameters every second and averaging them every minute. These professional weather stations are equipped with different sensors but not limited to

Wind speed & direction
Atmospheric pressure
Air temperature, relative humidity & dew point
Rain/precipitation Model
Weather transmitter
Visibility sensors
Present weather sensors
Ceilometer
Solar radiation / Sun duration
Leaf Wetness
Soil Moisture
Soil Temperature

We can also perform self-tests on sensors, and interface with almost any type of telemetry. The weather station or groups of weather stations can communicate and be re-programmed remotely via any of the telemetry modes. INSAT compatible data relay transmitter provided by us is the direct link for data communication from remote stations to central receiving data collecting centre. UHF/VHF communication is provided for short aperture network. Modems for communicating the data through dial-up/leased telephone lines is also available.