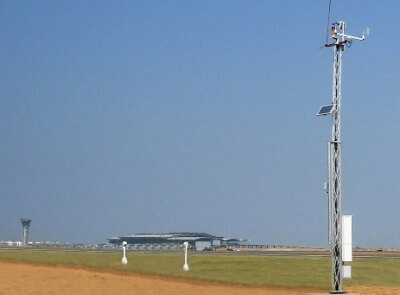 Meteorological measurements at Airport are crucial for safe landing and take-off of aircrafts. Precise measurement of Visibility, Pressure, Wind speed and Direction, Temperature, Humidity, Precipitation are some of the basic requirements. Runway Visual Range and cloud height near touchdown are very important parameters for Air Traffic Safety, Control and planning. The Meteorological equipments at Airports helps pilots and aviation personnel make critical decisions by providing continuous, real time information and reports on airport weather conditions.
Our solutions are designed as per the customer requirements and also provide the flexibility to upgrade with the growth of the airport. All of our systems are scalable, with an open system architecture that makes expansion easy. We at SGS Weather have installed Airport Systems at most of the important and major Airports in India including New Delhi, Mumbai, Chennai, Hyderabad, Bangalore, Jaipur, Amritsar, Agartala, Lucknow, Durgapur and others
We offer system capable for tailoring a complete solution to any weather-related challenge. The systems can be customized to incorporate sensors that detect runway condition as well as more problematic weather phenomena such as freezing rain, windshear and thunderstorms


We can assist in all aspects of Airport projects from initial planning through maintenance and lifecycle on-site support. The unique advantages in our aviation turnkey project offerings are
Trained and experienced engineers working in airport environment from long period
Fully configurable and modular system
Fully scalable to cover the needs from CATI to CATIII airports
Superior data accuracy and consistency
Guaranteed maximum data availability and reliability by duplicated Hot redundant servers
Seamless integration of meteorological data into other ATM systems
ICAO compliant reporting formats
State of Art - software being used at major airports in the world
SGS Display products for public decimation of information on LED screens, touch Kiosks and user defined information outlets
Provision for resident engineers for onsite operation and maintenance support.