Our Mobile Weather Research & Operational Vehicle solution is tailor made as per the customer and project requirements. We make our solution compact, self – contained and autonomous. Rapid deployment is the major design criteria for these solutions. The Weather instruments complement in our Mobile Weather Research & Operational Vehicle may include but are not limited to the following:
Wind Speed / Wind Direction
Temperature / Humidity
Barometric Pressure (QNH, QFE)
Visibility / Present Weather Sensors
Present Weather (Precipitation Identification)
Ceilometer for Cloud Height and Sky Condition
Radiosonde with launching accessories
Solar Radiation
Lightning / Thunderstorm sensors
X band Radars
Acoustic Wind profilers
Any other sensors or instrument as required by the customer. The system comes with complete integration including data reception , archival and analysis platform. Our Mobile Weather Research Vehicle solution are designed, manufactured and supplied as complete self-contained units in a number of variations. They are designed to work and withstand extreme climatic conditions. They are ergonomic and aesthetic in design. The project for supply of the Mobile Weather Vehicle includes
Consultancy Services for the design of vehicle in operational and Transport mode
Engineering & Architecture
Electrical and mechanical design
Structural design high wind & Cyclone operations
We also provide Consulting and Technical Services for

Instrument Coverage analysis
Performance studies

Our project execution services include

Electrical and mechanical works
Installation of equipment and systems
Operation and maintenance training
On-The-Job training
Our after sales include Yearly maintenance contracts & Urgent Maintenance requests. Our systems are for rapid deployment and can be used for various applications
Extreme Weather studies
Tactical Military air strips and artillery requirements
Remote airstrips
Training exercises
Disaster Recovery operations
Other Major equipments which are integrated with our system are
Trailer, Highlift system, commercially available Truck chaises
Working cabins
Heating & Cooling systems
Main / standby power Generator
Ground to ground communications
Recording / timing / GPS
Operational Consumables
Industrial grade IT Equipments
Navaids monitoring
All other Ancillary equipment and accessories
We design, procure, integrate and deliver according to your requirements.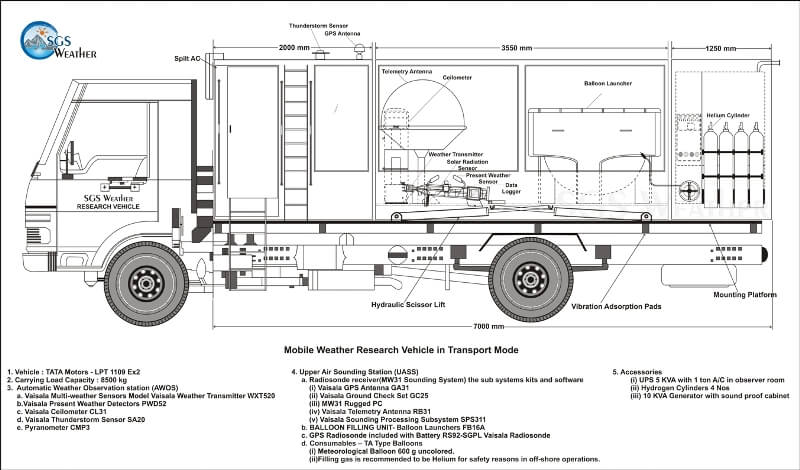 Mobile Weather Research Vehicle in transport mode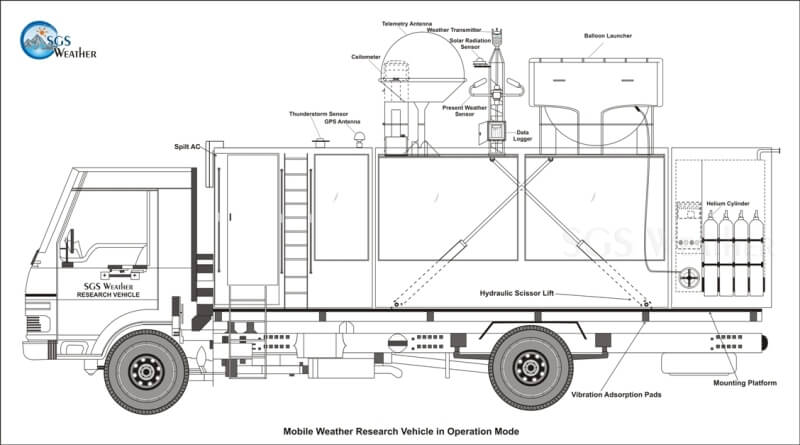 Mobile Weather Research Vehicle in operation mode