Turn- key Implementation of Projects
A turnkey is a type of project that is delivered as a completed product. As being a manufacturer and system integrator, we add features and services to an existing cutting edge technology products, then execute as an integrated product or complete "turn-key" solution. This practice occurs commonly with the customers where their requirement is beyond the standard industry products and is bundle with a software application, product outputs, special service requirements and operational manpower needs also with supplied hardware. The 'added value' comes from our professional services such as integrating, customizing, training and implementation etc along with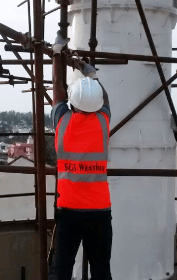 manufacturing and fabrication of specialized components and fixtures. The value is also added by developing a specific application for the product designed for the customer's needs which is then resold as a new package. We accomplish this by having an in-house blend of experience, knowledge and ability, which allows us to select and provide the best available solution that match our customers' requirements. We provide overall project execution services using qualified, skilled and experienced field engineers to execute onsite projects. The primary aim of our company is the provision of an 'Integrated Approach' to project execution for all types of Weather & Environmental needs of our customers and provide long term support service for trouble free operation of systems.
Exhaustive and Interactive Training Programs
Training is the acquisition of knowledge, skills and competencies as a result of the teaching of vocational or practical skills and knowledge that relate to specific useful competencies. Training has specific goals of improving one's capability, capacity, productivity and performance. We at SGS Weather understand that training forms the core of any project and provides the backbone for the quality operations and upkeep of the systems. In addition to the basic training required to understand the system, we provide training beyond initial qualifications: to maintain, upgrade and update skills throughout the project lifecycle. With exponential development of complexity of the technology, the customer requirements are more demanding and dynamic in nature. We understand this change a nd our training programs are designed from the simple operations and operational level maintenance to complex spare part replacement at sites. Our customer training programs can be characterize into a number of discrete components, each addressing a different part of the overall learning process as below For complex multi-user system, SGS often constructs a user-to-task map to present the relationship between the tasks and the identified team structure and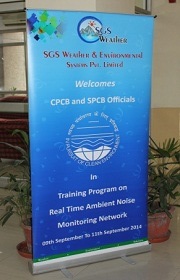 also to identify new groups of users that would need to have an understanding of the system. The training gap is assessed by a comparison between the goals and tasks undertaken by the individuals and the existing training. There is a wide variety of training media that we use, ranging from traditional lecture-based teaching to sophisticated simulators. We also make movies for project installation & maintenance and the results to visual training has been the most successful. Our core business strength is providing a broad range of our training services to all customers and having a satisfied base of references in Weather & Environmental in closely knitted scientific community.
Data Backup, Archival
The end product of our systems and the projects is "DATA". Normally it is voluminous and a proper planning and expertise is required to handle and upkeep the data. We at SGS Weather provide the complete solutions and support for Data Backup, Archival and dissemination. Data archiving is the process of identifying and moving inactive data out of current database systems and into specialized long-term archival storage systems. Moving inactive data out of online systems & Servers optimizes the performance of resources needed there while specialized archival systems store information more cost- effectively and provide for retrieval when needed. Data archiving is the process of moving data that is no longer actively used to a separate data storage device for long-term retention. Data archives consist of older data that is still important and necessary for future reference, as well as data that must be retained for regulatory compliance. Data archives are indexed and have search capabilities so that files and parts of files can be easily located and retrieved. Data archives are often confused with data backups, which are copies of data. Data backups are used to restore data in case it is corrupted or destroyed. In contrast, data archives protect older information that is not needed for everyday operations but may occasionally need to be accessed. We at SGS Weather help the customer by understanding its needs. We suggest and implement the most efficient way to handle the data by writing the scripts for the customer as per his existing and new infrastructure. We set the policies for qualifying data to be moved into archives. These policy settings are used to automate the process of identifying and moving the appropriate data into the archive system. Once in the archive system, information remains online and accessible. Original content is preserved to ensure complete, reliable integrity for the life of the archived information. We also provide solutions for Cloud servers for data backup and archiving. We provide lot of benefits to the customer by automating the data archiving and backup process and using purpose-built archive systems make On-line systems run better, use less resources, and reduce overall storage costs. Online servers performance is unaffected by information growth. Backup and recovery runs faster, disaster recovery is less costly, and systems are easier to manage. Data moved into archives is stored at much lower cost. We also provide the Data dissemination on the internet cloud severs through many different kinds of communications protocols. The standard internet protocols are well suited for local area networks (LAN) and wide area network (WAN) communication. We provide solutions for data Masking of structured data to ensure that data security is maintained and sensitive information is not exposed to unauthorized personnel. We ensure our customers for data security and integrity with fast & stable solutions for Data Backup, Archival and dissemination.
Detailed Project Preparation
SGS has dedicated team of experts for developing specialized systems on demand from user. Challenging projects are our first choice.

SGS Weather is a reliable name in the meteorological field for offering integrated technical support services. Our project support includes : Pre-feasibility study, Technology Identification, Project Feasibility and Market Study, Identification of data utilization Opportunities, Preparation of Project Profiles and Preparation of Techno-Economic Feasibility Reports. Project Preparation consists of all the work necessary to ensure that a proposed project is technically feasible and appropriate and that it can be successfully implemented as per customer requirements. The process ensures the identification and elimination of key risks at the earliest possible time and maximizes development opportunities by ensuring that projects are well conceptualized. Preparation work is social, technical and financial in nature. Typical preparation activities include: the identification of funding sources, needs assessments, community and stakeholder, socio-economic studies, the development of project concepts, assessments of site suitability (e.g. topography and environmental conditions), site availability, government rules and regulations, estimates for operational costs. Most of this work takes place during the pre-feasibility and feasibility phases. Systematic and effective Project Preparation is important for a range of reasons outlined below:
Project risks are managed and controlled.
Scarce implementation resources are optimally utilized.
Projects are well conceptualized and planned.
Development is appropriately tailored to local needs and is integrated in nature.
Government and other funders can predict and therefore manage their cash flows by enhancing the predictability of project outcomes and timeframes for implementation.
Project Preparation needs to be properly managed and coordinated and should be regarded as a project management function. Often government departments or other funding agencies do not have the in-house personnel to undertake all the activities required for project preparation and typically the assistance of outside specialists is required. Our core strength in project support is our team of expert advisors who understand the complete process and manage it effectively for the customers.
Onsite Annual Maintenance Contract
In today's competitive era, quality is a prime factor. Quality output from any instruments depends on repeat performance. To get repeat performance; equipment maintenance is absolutely necessary. Maintenance of Weather & Environmental sensors and projects with computerized numerical controls requires special skills. Every organization that uses the systems may not have specialized maintenance team and manpower to take care of all variety of field maintenance requirements. We at SGS Weather being the system integrators are the best people to support in maintaining complex network systems provided by us. To make sure that our customer uses our equipment during the full duty-life cycle, we offer our customers the concept of Annual Maintenance Contract with comprehensive coverage of all the sensors & equipments. In order to ensure minimum downtime we at SGS stock all the required spares for maintenance. To get the best results, we carry out the routine maintenance as per the site requirement and conditions. Maintenance of IT infrastructure has become essential to various customers as more and more equipments are computerized with numerical controls and outputs. We at SGS have best of the hardware and software team to perform all the IT maintenance of servers, computers, printers & peripherals. We combine our own experience & knowledge together with our valued services, so that we can deliver 'Excellence & Quality' in everything we do.
Solar Radiation Sensor Calibration
SGS Weather Calibration Lab is "one-stop solutons provider" for solar radiaton Calibration. We offer indoor Calibration services of all makes and models of Pyranometers and Outdoor Calibraton Facility for Phyreliometers. SGS Weather Solar Radiaton Calibration is designed to calibrate the all Pyranometers according to the "Direct beam calibraton (type IIc) of the ISO 9847" Solar Energy – Calibraton of field Pyranometers by comparison to a reference Pyranometer. During the calibraton procedure, the output signals of both the reference and the test Pyranometer are recorded simultaneously. From these recordings, the sensitvity of the test Pyranometer is calculated.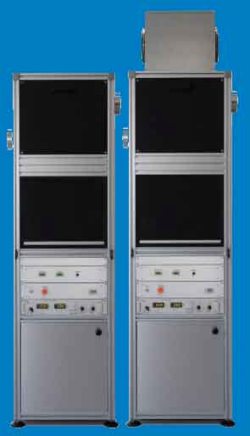 The Calibration process is controlled via a dedicated user interface on PC. Data storage, including data backup, and quality assurance of the measurement (lamp stability and homogenity) are taken care of by the control unit. The procedure involves an unshaded and a shaded measurement. The transition is done using an automated shutter. The System is fully automatic and the only manual operation is the also to identify new groups of users that would need to have an understanding of the system. The training gap is assessed by a comparison between the goals and tasks undertaken by the individuals and the existing training. There is a wide variety of training media that we use, ranging from traditional lecture-based teaching to sophisticated simulators. We also make movies for project installation & maintenance and the results to visual training has been the most successful.
Benefits to Customers
Fully automatic Indoor Calibration.
Complete Data storage of calibration and automatic calculation in SGS Weather Solar Radiation calibration Lab.
Well established and traceable calibration methods.
Fast turnaround times .
Automated quality assurance of the measurement.
Suitable for all common Pyranometer models.
Indoor all-season calibration.
No dark environment required.
Indoor all-season calibration.
No dark environment required.
Calibration references available with us for many brands and models of Pyranometers.
OEM approved calibration facility.
SGS Weather Indoor Calibration Laboratory Pyranometer Calibration Procedure
We follow the instructions included in ISO 9847:1992 for pyranometers calibration. ISO 9847:1992 Solar energy – Calibration of field pyranometers by comparison to a reference pyranometer. The sesitivity of the pyranometer under test (the 'test sensor') is determined by calibrating this pyranometer against a reference sensor. This calibration method is described in ISO 9847 as a type IIc Calibration, an indoor direct beam Calibration. A reference pyranometer with a known sesitivity St in V/(W/m²) and a test pyranometer are placed side by side under an artificial light source. A shaded, an unshaded and another shaded reading are taken from both pyranometers, before the sensors are interchanged and the readings are repeated. A buzzer alerts the user when the sensors need to be interchanged, or when an error occurs.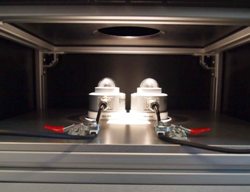 The sensitivity Sr in V/(W/m²) of the
pyranometer under test is determined by St = Se (Vt + Vt'/Vr + Vr')
Where Vt = Vt, − Vt,
Vtʹ = Vtʹ,u − Vtʹ,s
Vr = Vr,u − Vr,s
Vrʹ = Vrʹ,u − Vrʹ,s
With V voltage readings on the test (t) and reference (r) pyranometer, respectively shaded (s), unshaded (u), in original position (no apostrophe) or in interchanged positions (with apostrophe). The shaded readings before and ater an unshaded reading are linearized to find the values for Vt, Vtʹ,s, Vr,s and Vrʹ,s. Voltage readings are taken on a Campbell Scientific CR1000 datalogger. Expanded uncertainty of the transfer itself is be calculated to be 0.5%. To find the uncertainty of the sesitivity of the test sensor, we include the uncertainty of the reference sensor itself and that of any corrections that are applied. Standard Calibration includes a measurement of the sensor resistance, the insulation resistance and the 95 % response time of the test sensor. Various digital pyranometers are supported, with slight changes to the measurement protocol. The Calibration lab supports two different Calibration modes: side-by-side comparison and a single pyranometer mode. The Calibration includes various levels of quality control on input parameters and measurement results. The results are displayed on the Calibration Certificate.
Time taken by us for Calibration
2 working days after receipt of Pyranometer at our Calibration Center. Solar Radiation Sensor Calibration Download PDF